It was a great weekend in many ways. It was good to meet Janne again as mentioned before. We had a lot of fun. He has now left Bangkok for the beach.
Outside the Bangkok Art and Culture Center was yet another culture fest event over the weekend. Really nice to see all these various culture events, that seems to grow in numbers and in quality.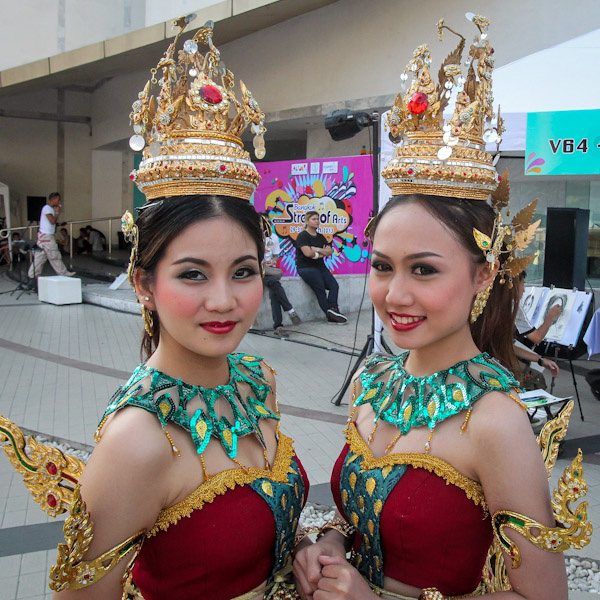 More bicycles on the road?
The Tourism Authority of Thailand (TAT) has joined the private sector in organizing a campaign to encourage more people to ride bicycles.
TAT Deputy Governor for Tourism Products Vilaiwan Twichasri revealed  that the tourism authority has joined N.C.C. Exhibition Organizer Co., Ltd. to organize Bangkok Bike 2013, an event that features everything about bicycles. The TAT Deputy Governor stated that there has been a growing trend of biking in Thailand, proven by a 20% growth of bicycle sales in the country last year.
Bangkok Bike 2013, scheduled during May 2-5 at Muang Thong Thani, Nonthaburi.
I have biked on a guided tour in Bangkok twice, and it has been a great way to see some parts of Bangkok. I did the tours with Bangkok by Bike and it was really nice. A video I did together with Swedish journalist Jan Källman.
Cola war in Thailand
A reader asked me about the EST soft drink vs Pepsi issue that he had seen in Thaiand and what it was about. Well the distributor of Pepsi canceled the contract and launched its on soft drink two days later: EST. Read all about here.   
Bangkok – City of Smile