Except the Red Bull heir I wrote about yesterday there are a few more famous people in trouble.
A few days ago Channel 3 actor "Phee" met with Thonglor police to hear four charges against him stemming from an incident in which he allegedly killed his 44-year-old friend Nopphadol Athibuy.
"Phee" was charged with unlawfully carrying a firearm, possession of a firearm, shooting of a firearm in a public space and premeditated murder. Police said that they would summon "Phee" for final questioning on March 25th before sending the investigation report to the public attorney for judgment.
The 33-year-old actor said that he had not yet met with Nopphadol's family to talk about a settlement. According to Daily News after the case was settled, he promised to ordain as a Buddhist monk in order to make merit for the deceased.
"Phee" allegedly shot Nopphadol, a part owner of Thonglor club Muse, at a parking lot on Soi Thong Lo in January.
Settlement and monkhood?
A CCTV image of the Thonglor shooting in which Channel 3 allegedly killed Nopphadol "Ae" Athibuy. The image shows that the gunshot might not have been an accidental discharge, as the actor had originally claimed.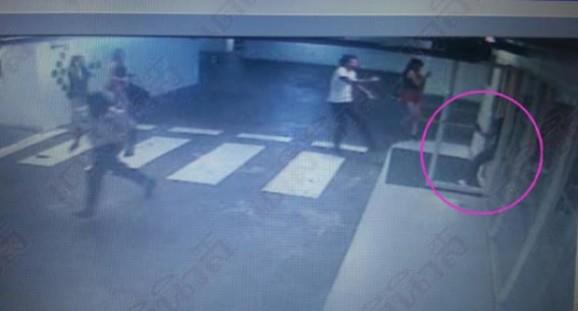 And then we have Kanpitak "Mu Ham" Pachimsawat. He is the 24-year-old son of former Miss Thailand Sawinee Pakaranang, that has been awarded a reduced sentence for charges stemming from a 2007 incident in which he rammed his car into a crowd waiting at a bus stop in Bangkok's Watthana district.
Mu Ham had originally received 10 years and a month in prison for his involvement in the affair, which resulted in the death of one woman and the serious injury of several bystanders.
The incident apparently originated from a fight between Mu Ham and a bus driver in which the driver accused Mu Ham of having sideswiped his bus in a Mercedes Benz sedan.
In the ensuing trial, Mu Ham's family claimed that he suffered from bipolar disorder and was unable to control himself while angry, and should therefore not be legally culpable for the woman's death. The Appeals Court decided earlier this week that this claim was "partially convincing."
Apparently the court found it convincing enough to reduce his sentence.
Mu Ham's sentence was originally reduced to three years, then reduced once again to two years, after the defendant's family paid remunerations to the victims.
Mu Ham is currently at large on bail. His family has not mentioned whether or not it will continue to appeal the decision.
Settlement with family. Reduced sentence. We have seen it before and will see it again.