Bangkok Temples
Bangkok Temples
Most of the Buddhist temples of Bangkok, Thailand are very beautiful and interesting. The predominant religion of Thailand is Buddhism and so one will find great numbers of temples or Wats that bear the reflections of this religion. Some of the most important ones in Bangkok are listed below and these should feature in one's itinerary.
I will in the near future do more detailed reports of some temples. Stay tuned.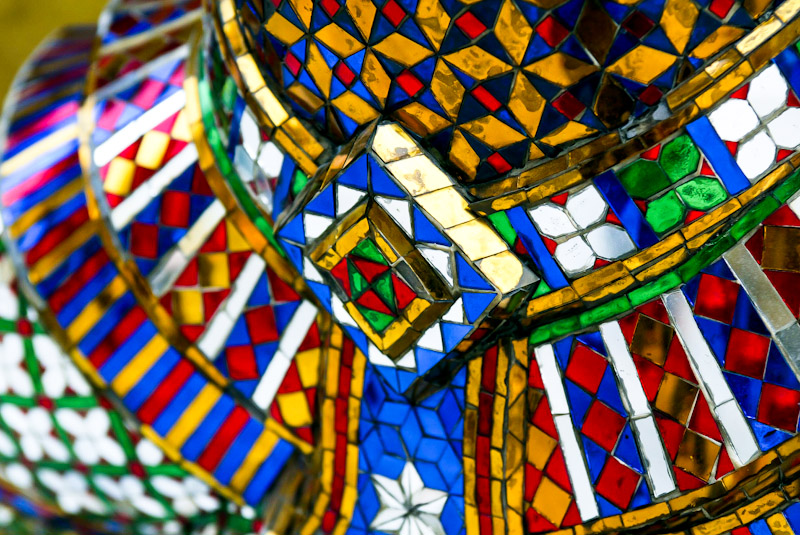 Wat Arun
Among Bangkok's most revered icons, Wat Arun – the Temple of Dawn – sits on the west bank of the Chao Phraya River. Its striking pagodas decorated with millions of pieces of Chinese porcelain are well known and remarkable.
The best place to get a shot of Wat Arun is actually from the other side of the river, particularly at sunset. The restaurant at Arun Residence has great views and good food.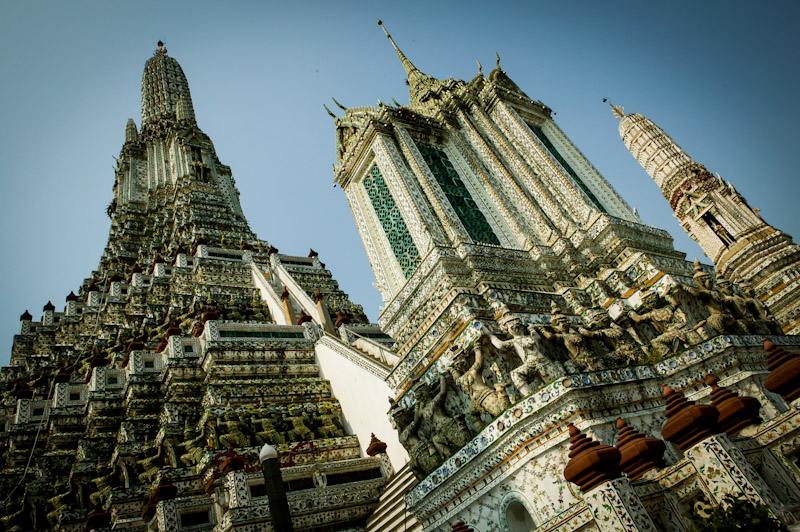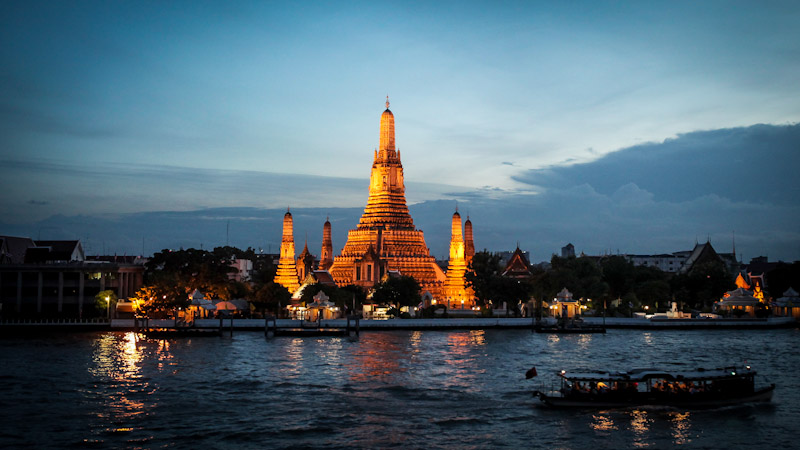 Wat Phra Kaew
Wat Phra Kaew – Temple of the Emerald Buddha – enshrines one of Thailand's most revered Buddha statues, which was carved out of a single block of jade.
Also worth checking out in this Bangkok temple are the murals, which depict the traditional life-story of the Buddha, proverbs and episodes from the Ramakien — the Thai version of the Ramayana.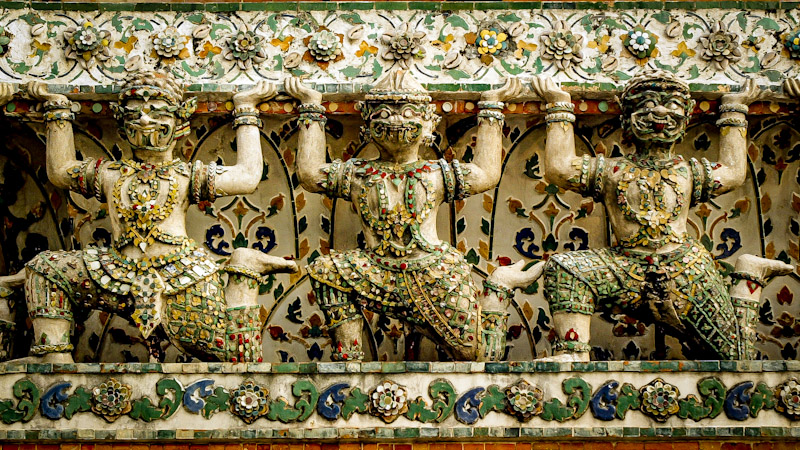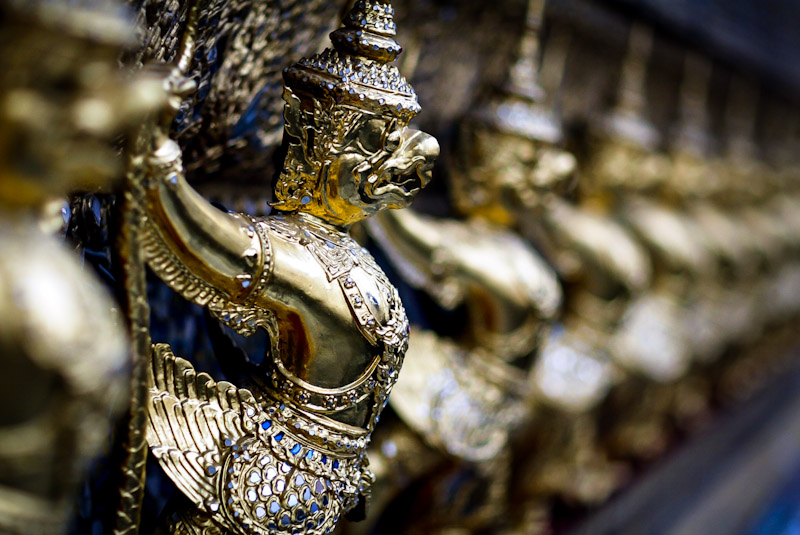 Wat Pho
Right next door to the Grand Palace, Wat Pho is home to Thailand's biggest reclining Buddha statue. The soles of the 46-meter-long statue's feet are inlaid with mother-of-pearl, depicting the 108 auspicious signs of the Buddha, while the statue itself is covered in gold leaf.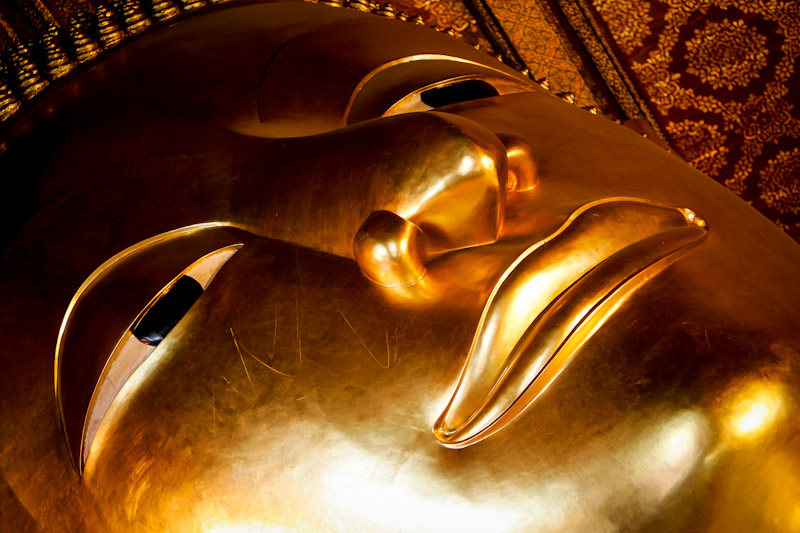 Wat Saket
Wat Saket is another one of those Bangkok temples that draws visitors to its grounds for its unique landmarks rather than the temple itself. In this case the main draw is the "Golden Mount," a man-made hill topped with a towering chedi that offers incredible views across Bangkok.
Wat Traimit
Wat Traimit is actually home to one of world's largest solid gold Buddha statues.
Remarkably, the image sat ignored for centuries until workmen dropped what they thought was just a five-ton, 13th century image of Buddha in the 1950s, cracking the plaster to reveal the solid gold statue underneath. Apparently, it was covered to fool invading Burmese back in the day.
More temples notes and pictures in the near future.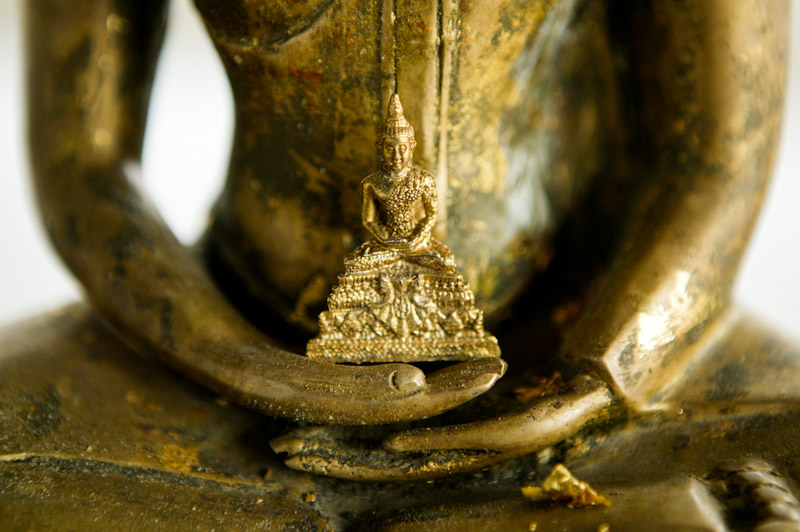 Bangkok – City of Life!