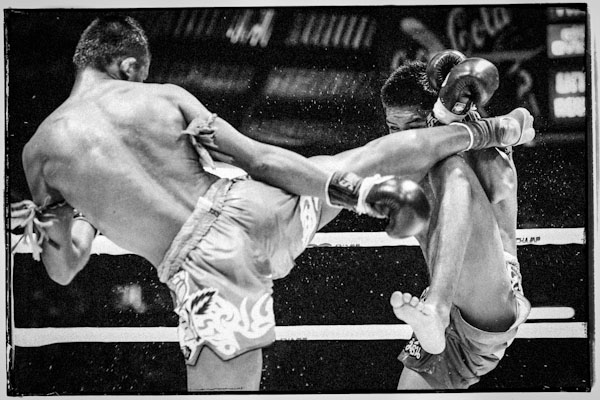 This brutal but graceful martial art has been practised in Thailand for centuries. Major bouts are held every day of the week in Bangkok at either Lumpini Stadium or Ratchadamnoen Stadium. Bright lights flood the ring, revealing two men going through their spiritual 'Wai Khru' (a ceremony to thank their revered teachers, spirits, boxing ring and the sport itself). The sound of Thai classical instruments and the deafening cheering of ecstatic spectators in the stadium don't seem to distract the two boxers.
Following the 'Wai Khru' ritual, they go straight into 'Ram Muay', a dance where each boxer demonstrates his skills and style. These pre-match ceremonies are believed to bring good luck, protection, respect, and a fair and honourable fight to the boxers. Once all the formalities are out of the way, it's time for action. Five three-minute rounds are on.
I prefer to watch the matches at Lumpini, and I try to go when I have a chance. I usually try to get a ringside seat, so you can walk around in to the locker room and so. Please note, a ringside ticket does not mean directly at the ringside but there are 4-5 rows close to the action.
More on this subject very soon, with more pics and longer more detailed text.
The two main stadiums in Bangkok:
Lumpini Boxing Stadium
Rama 4 Road,
Walking distance from MRT Lumphini
Fight days: Tuesday, Friday, Saturday
Ratchadamnoen Stadium
Ratchadamnoen Nok Avenuve
Fight days: Monday, Wednesday, Thursday, Sunday.