Bangkok has a good supply of bars with views and rooftop bars these days. And there is always a new one around the corner or rather on top of a building. Some of these bars are chilled out places; some are plain and simple tourist attractions. And yet a few more are hidden gems with a local crowd.
Whenever a new bar in this segment pops up I try to check it out to see what they offer.

1. Sky Bar at Sirocco – 63rd floor

Sky Bar is among the world's highest outdoor bars and one of the most popular in Bangkok. It offers great panoramic views of the city and the Chao Phraya River below. Sky Bar is located on the 63rd floor next to the Sirocco restaurant in the Lebua Hotel, and is a popular night destination for first timers to Bangkok.
When I go there, I try to get there when they open the doors at 6 pm to get a glimpse of the sunset. Later at night it's to crowded and it's difficult to get any views at all. Some of the unique atmosphere disappears in the camera flashes.
The nightly jazz band enhances the overall experience.
My favorite cocktails at Sky bar include mojito and hangerovertini, but all are well made.
Type: stylish rooftop bar with great views.

2. Distil Bar – 64th floor

Also located in Lebua Hotel is the sumptuous Distil bar. It boasts an imposing choice of drinks and cigars, with a breezy bed-lined terrace. A nightly dj provides good vibes and Distil is a great alternative to Sky Bar.
Here I usually drink one of the carefully selected wines by glass. I also like the signature drinks created from scratch on order.
Type: indoor bar with a small but cozy outdoor terrace.

3. Breeze – 52nd floor

The third and lowest located outdoor place in Lebua Hotel is Breeze. On the 52nd floor you still get a great view of the city. It feels like Star Wars when you walk out on that bridge to reach down to the bar. Beautiful place with attentive staff, as all bars in this complex. If you would like to eat they offer very tasty contemporary Asian food.

Type: huge terrace with bar.

4. Moon Bar at Vertigo – 61st floor

Moon Bar in Banyan Tree Hotel offers a stunning venue for any occasion. As you sip cocktails, lounge tunes waft in the considerable breeze. Moon Bar is a good alternative to Sky Bar and you can fairly easy squeeze both in within a few hours.
Type: rooftop

5. Red Sky – 55th floor

Red Sky at Grand Centara Hotel lets you enjoy an unparalleled panorama of central Bangkok that few other places can beat. The bar under the vari-coloured arch at the 55th floor is a good start to Red Sky. You can also walk up the stairs to the next level which will give you a 360 view of the city. Daily happy hours and an extensive wine cellar are other pluses.
Type: rooftop over two floors with 360 view.

6. Blue Sky – 24th floor

Set on the 24th floor of the Centara Grand Hotel, Blue Sky offers a lofty view over Chatuchak and Lad Prao. This location gives you an new display of downtown Bangkok. I like to drop by for a drink when in the area.

Type: Rooftop.

7. The Roof Champagne & wine bar – 25th floor
The Roof at Siam @ Siam Hotel is a nice place to hang out at to escape the crowd and noise in Siam area. A perfect stop after a shopping spree at MBK and the shops in the area.
Type: rooftop with 360 view of shopping district.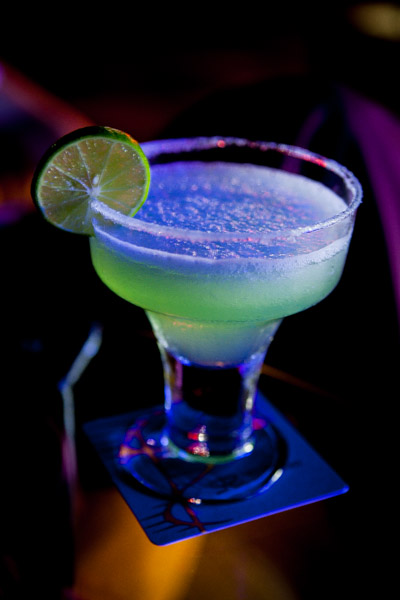 8. Park society – 29th floor
On top of the fancy Sofitel So Bangkok Hotel you find Park Society within the indoor dining area and the open-air balcony with a good view over Lumpini Park while sipping drinks to nice tunes.
Type: stylish rooftop with soft party vibe.
9. Nest – 9th floor
Nest in Sukhumvit Soi 11 has been around for a few years but is still popular. Take the elevator to the eight floor of The Le Fenix Hotel, walk up the stairs and you enter this well managed oasis. It offers a number of weekly events, and has good party vibe to it.
Type: low rise rooftop party lounge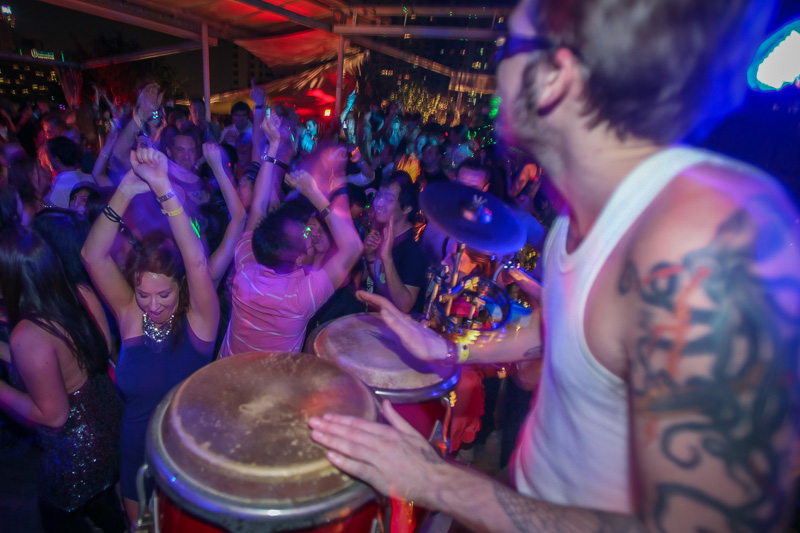 10. Ambar – 8th floor
On Sukhumvit Soi 15 Ambar is located on the top of Four Points by Sheraton. It's a laid back place with cozy atmosphere. Good meeting point for anight out in the area.
Type: chilled rooftop bar
11. L'Appart – 32nd floor
L'Appart is the top-floor fine dining place in the Sofitel Bangkok on Sukhumvit Road. The bar feels like a stylish living room with light menu, library, good cocktails, and dj. Good view from the outdoor balcony.
Type: indoor bar and lounge with seating outside.
12. Long Table – 25th floor

Long Table is one of the cooler bars with a view in Bangkok. Not for the height or the view itself maybe, but it's a very pleasant hangout. It's stylish with its long table and cozy booths inside and the outdoor bar area is busy through out the week. It's easy to understand why. A dj set the ambiance.
Type: pre party outdoor terrace under roof.

13. Axis and Spin – 38th and 39th floor

Axis & Spin in The Continent Hotel is a fairly new kid on the block. It's spread over two floors with a connecting spiral stairway. Each floor is rather small, I prefer the higher level, since you can sit outside there.
Good view over Asoke intersection area.
Type: Indoor restaurant & bar with small outdoor terrace.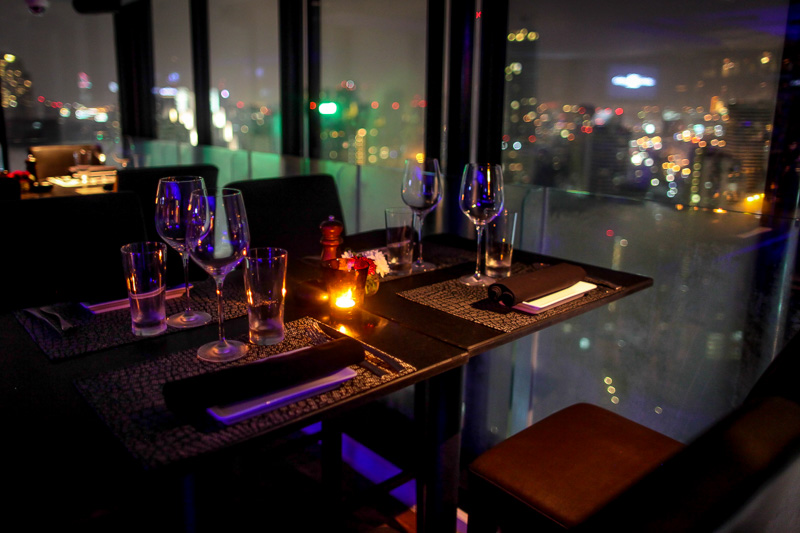 It is spread across two floors connected with a spiral staircase. – See more at: http://www.thecontinenthotel.com/dining.html#axis
It is spread across two floors connected with a spiral staircase. – See more at: http://www.thecontinenthotel.com/dining.html#axis
14. Above Eleven – 32nd floor

Above Eleven on the 32nd floor of the Fraiser Suites serviced apartment building is set out over two floors with a good view of the lower Sukhumvit area. The unusual Peruvian-Japanese fusion dishes are tasty. The cocktails are well mixed. Above Eleven is a nice relaxed place, but the entrance area in the back of the building could be improved.
Type: Rooftop terrace with 180 view of lower Sukhumvit.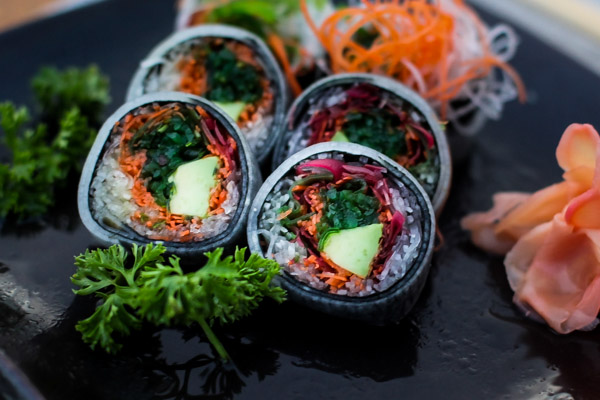 15. Amorosa – 4th floor

Amorosa is a very romantic pit stop along the river located in the Arun Residence Hotel. Sure enough here it's not the height that draw attention, but the superb view of  Wat Arun, the temple of dawn, across the river.

16. Three Sixty Lounge – 32nd floor

Three Sixty in the fancy but relaxed Millennium Hilton Hotel across the river has a stunning view in all directions, hence the bar name. Romantic vibe with soft jazz tunes and well created cocktails.
Type: Indoor lounge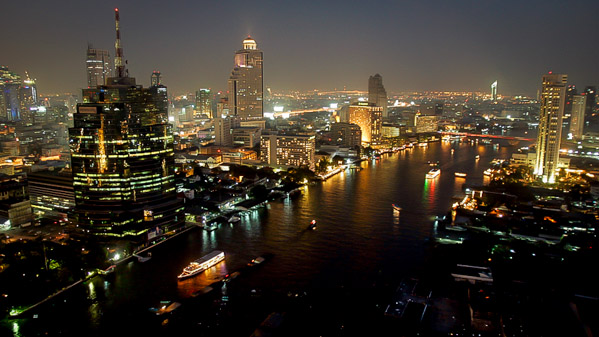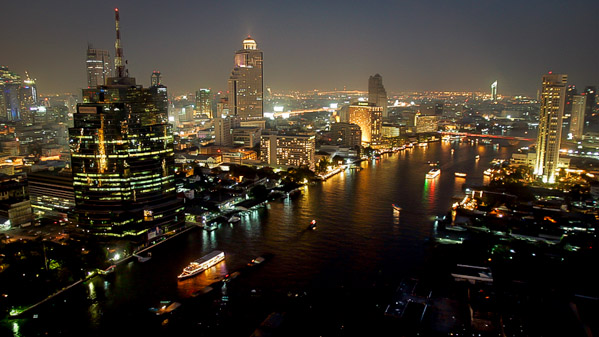 17. Phranakorn Bar – 4th floor

A stone throw from backpacker area Khao San Road is the location for this low rise roof terrace bar and restaurant. Phranakorn Bar serves spicy Thai food, beer and whiskey with views of the floodlit Golden Mount. Supremely relaxed atmosphere on all four floors. Indoor you can browse art, play pool and listen to live music. A locals hangout.
Type: local hangout with great atmosphere.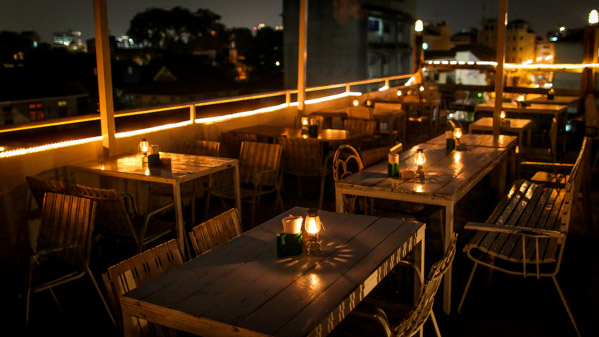 18. Skytrain  Jazz Pub – 5th floor
Another relaxed place is the Skytrain Jazz Pub conveniently located by the skytrain station Victory Monument. Basic but tasty Thai food is washed down with various beers. Soft live music several days a week. There is no elevator so you have to walk up the five floors. Don't let that scare you however, this is nice hangout.
Type: local hangout with jazzy tunes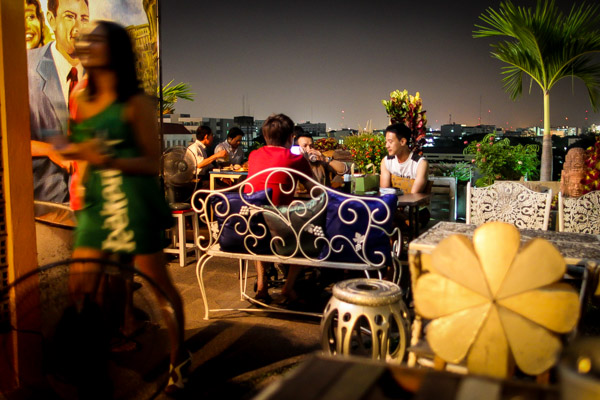 19. Octave – 45-47th floors
Another rooftop bar that is located in a fancy hotel. At this "on the top of the world" bar you get a great 360 degree view of the city. Best view is along Sukhumvit towards Siam and Baiyoke Tower. There is short yet interesting menu, mostly snacks and quick bites. The drink list includes a number of interesting cocktails along the classics.
A new interesting choice in this section of bars. I have been a few times, and got the wrong cocktail once, and snobbish attitude from the head waitress another. But I will be back.
Type: rooftop
20. Speakeasy – 24th and 25th floor

Located in central Bangkok makes Speakeasy at Hotel Muse easy to stop by for a drink or some snacks. Level 24 is a small balcony with a  bar in the middle surrounded by stools. Indoor there is a cigar room with a good selection from around the world. For something more leisurely, walk up the stairs to the 25th floor and take in the 360-degree views of the city. Up on the rooftop, there are also small huts for something more private if wanted.
Type: stylish outside bar one floor and a rooftop bar on the higher level.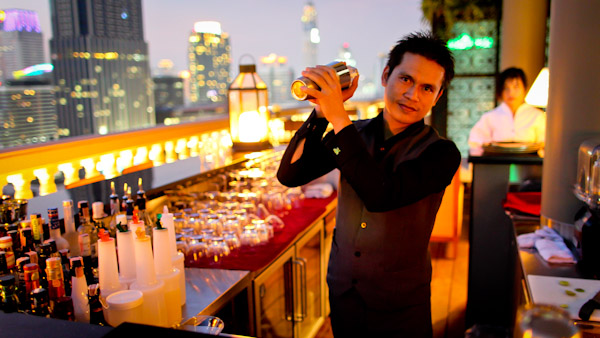 21. Ku De Ta – 39 & 40th floor

Ku De Ta opened in October 2013, and is maybe to set the agenda for the Sathorn area. This restaurant, lounge and club destination is located next to the W hotel, they will possible draw a higher end and international crowd. I look forward to see all this plan out. Newly renovated, and hip.
Type: indoor lounge and bar.
22. Leapfrog – 8th floor

An easy few hundred meters down Sukhumvit Soi 10 you find Leapfrog on the rooftop of the Galleria 10 Hotel. It serves some international snacks and tapas together with its creative drink menu. If you stay in the hotel or in the close it's a nice stop before you head out in the Bangkok evening.
Type: hotel pool bar with atmosphere.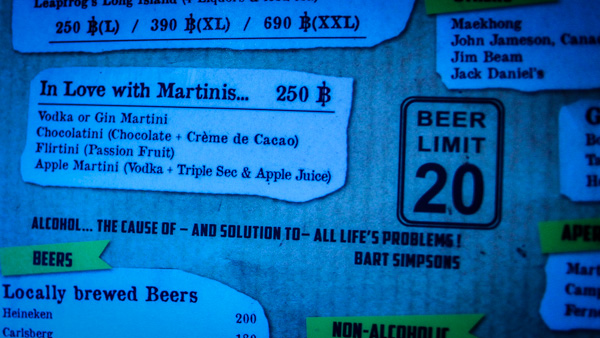 23. Cloud 47 – 47th floor

The location at the top of the United Center office tower on Silom Road is great. This is a very very casual place with lower prices compared to many other rooftop bars. The place is large and roomy with a 180 degree panoramic view of the city. Great possibilities for nice photos.
There is a bar on the left with plenty of tables for diners. Think office workers on after work snacks or party people sipping on a beer before going party down the road. Fair prices on the Thai snacks and food is a plus. The stupid table bell you suppose to ring when you want service is a big minus. Okay bar to sit in for a beer or drink. Live music as entertainment.
Type: rooftop with good view
24. Zense – 17th floor

Zense in Central World is another favorite of mine. Big indoor seating with a large terrace outside, with the bar a few steps up from the restaurant area. The restaurant offers various cusines which is great if you are out with a group of people. On offer is Thai by White Café, Italian by Gianni Ristorante, French by Le Beaulieu, Indian by Red, Modern European by To Die For, plus dessert from the ZENSE Patisserie.
Type: large restaurant terrace with a bar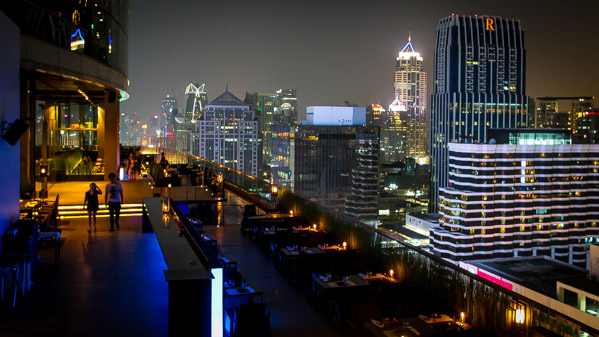 25. Shintori – 18th floor
Stylish Japanese dishes prepared with the finest ingredients. With an outstanding sake & beverage bar, a gourmet sushi bar and a full menu of creative à la carte dishes, enjoy excellent dining and creative presentation in minimalistic décor. I like the bar, however it's indoors and located far from the view, but it gives a nice background while hanging in the bar.
Type: indoor bar with covered view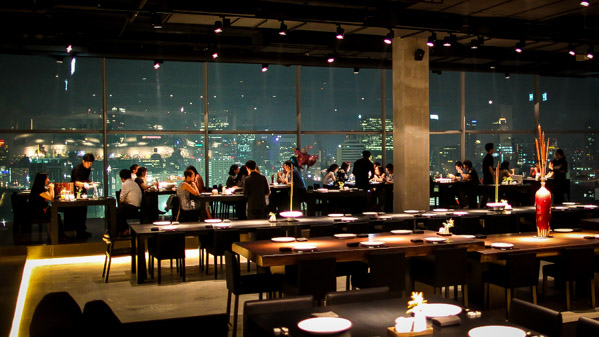 26. Ho
27. ES
28. The Roof Top Bar – 83rd floor.

The Roof Top Bar on the 83rd floor in the Baiyoke Sky Hotel possibly offers the best view of the Big Mango. But unfortunately lacks the atmosphere it could offer. My personally view is that this is a poor location, and staff is ignorant and offers poor service, and the bar is fairly outdated. No atmosphere at all. Sure the view from the revolving viewing point on the 84th floor is fantastic in many ways, but the down sides are to many for me.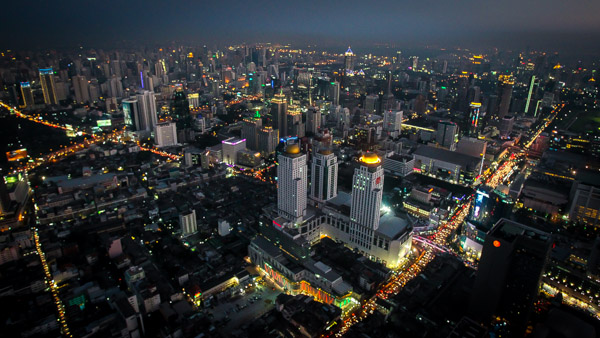 29. Attica – 23rd floor

Attica Sky Lounge is located on the 23rd floor of Eastin Hotel Makkasan Bangkok. I like the outdoor patio, it has a relaxed feeling to it with tasty snacks and drinks at reasonable prices. The location is a bit odd, but if you stay at this hotel or its neighborhood, it is well worth a visit.
Type: indoor bar with outdoor patio.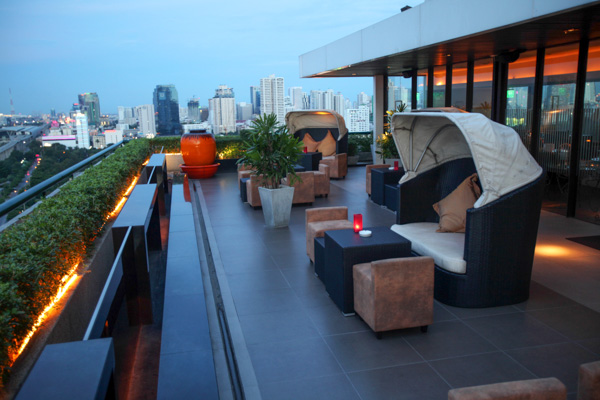 30. Scarlett – 37th floor

Located in Pullman Bangkok G Hotel on Silom Road, Scarlett Wine Bar & Restaurant offers a great location and nice atmosphere. You can sit inside or outside in this popular place, and enjoy tasty tapas and enjoy a great selection of wine.
Type: indoor bar with outside terrace
31. Monde – 5th floor
Far down Sukhumvit soi 39 is the location for the new rooftop bar Monde. It doesn't offer much views as it's located on the roof of the new Japanese inspired shopping mall Taka Town, which has only five floors. The mall is not fully ready yet, but a couple of restaurants have opened. Monde feels fresh and different with many sofas, wide menu, sheesha, live music, reasonable prices, friendly staff. The built-in roof makes it a good hang out even during the rainy season.
They have had some special offers for their soft opening, which has been nice. Even with normal prices this is a place I will visit again to hangout with friends.
Type: low-rise rooftop bar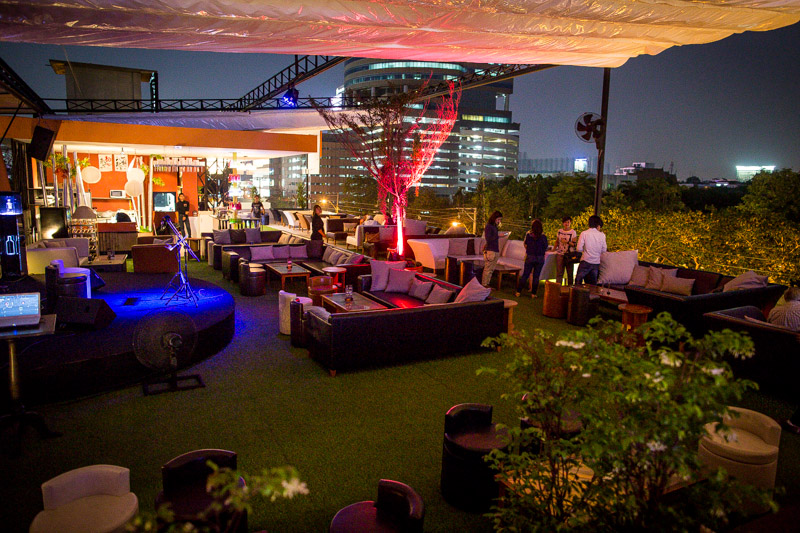 32. Zeppelin – 45th floor
Another newer rooftop bar is Zeppelin on the 45th floor of Luk Condo close to Sukhumvit soi 69 at BTS Pra Kannong. Unusual with this kind of bar in a condo, but this makes it a serious attempt to attract people from outside.
Zeppelin has a restaurant and bar inside but the highlight is the "outdoor lounge" with several different types of tables and sofas. Zeppelin gives 180 degree view from another direction of downtown Bangkok than you might be used to.
It is reasonable prices to be a rooftop bar. It is also to build a nightclub one level up floor which will be called "Half Moon". Feels odd, but nothing is impossible in Bangkok. Well worth a visit, I will go back. They also feature a skywalk, where you go on a pane of glass and can see straight down to the 11th floor. (Perhaps an odd gimmick. Nevertheless, I felt a little nervous to go on this "bridge". Check out their Altitude nightclub as well.
Type: rooftop lounge

33. The Roof @38th Bar – 38th floor.
The Roof @38th Bar at Mode Sathorn Hotel is a nice rooftop bar if you are in the area for a drink or some snacks. The hotel and bar is fairly new and you can feel it. There is a 360 degree view of Bangkok. There are comfy sofas, but no roof, so forget rainy nights. Snacks are French, Mexican, Moroccan, some sushi and more. Drinks are lower than some other fancy rooftop bars, but it's still a hotel so don't expect low prices.
Big plus for the relaxing atmosphere.
Type: rooftop lounge, relaxed vibe
34. Zoom – 40th floor
Zoom on the 40th floor of Anantara Sathorn Hotel covers the entire roof with a 360 degrees view. Just pick the view you want. Zoom offers a different perspective of the city. It's open air bar and has plenty of tables to relax at. French food with Asian twist is served along with light bites.
There are two levels. In the middle there is a large bar with a dance floor (?!), and this area is surrounded with terraces on a lower level with sofas and low tables. It's a chic looking place but is still relaxed, with a DJ on most nights.
Type: rooftop lounge with 360 degrees view
35. Gramercy Park – 35th floor
Gramercy Park is located upstairs from Above Eleven on Sukhumvit soi 11. It's a nice garden like place for drinks, since the food menu is very limited. Nice location, with a relaxed atmosphere.
Type: rooftop lounge
36. Balco – 5th floor
37. Octagon – 4th floor
38. Roof409 – 4th floor
Other:
There are more rooftop bars around. I need to revisit them to however.
Updated January 2015.