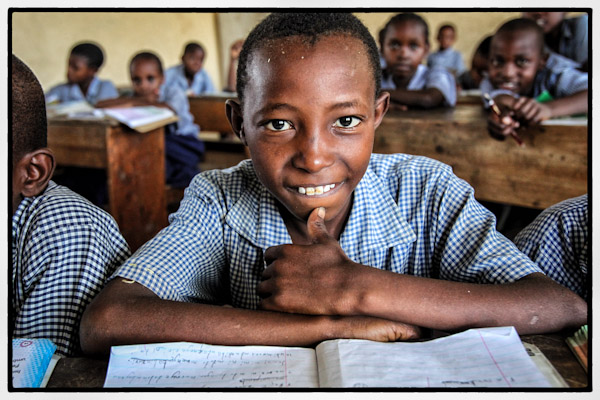 The Mikindani suburb outside Kenyan coastal town Mombasa has experienced a growth in population due to the industrialization in the area. Unfortunately many of the newcomers end up in the slum areas.
One family that came to Mikindani a few years ago is Nzingo Maria and her three children. She came here in hope for a better future after her husband had died. It was not easy to arrive here with nothing. Nzingo and her kids started scavenging at a local garbage dump, in order to find something to eat or things to sell at the recycle station. It was a very difficult situation for the young mother and her kids. They walked around in Mikindani begging for food, looking in the garbage piles for food to eat. They slept out side where they could find an OK place.
One day the twelve year old son Juma climbed up in a tree to pick some fresh fruits for the family. He slipped on a branch, fell down from the tree and landed on his arm. Juma was in deep pain, but they couldn't afford any doctor. So his elbow has since been dislocated and crocked. He is out of pain now, but it is uncomfortable to move the arm freely for him.
A worker from a school saw the suffering family often in the area and finally approached them. When he found out their story he and his family offered them to stay with them in a part of the house. Nzingo was very happy for this big gesture of course. The house is very basic made of clay, but it is much better than living on the streets.
Juma was admitted to the local school, and doing fine. He likes school and his favorite subjects are reading in Swahili and writing in English. He has good scores in school and he really enjoys it and always tries his best. Other subjects include science, math, and social studies. He has 31 classmates and has many friends.
School starts at 6.30 in the morning until 3.45 in the afternoon. They have a snack break at 10 am and then enjoy lunch midday.
When Juma grows up he would like to be a pilot so he can fly away and see other places. If that does not work out he would like to be a veterinarian. Juma really likes animals. For domestic animals he likes cow and goat. For wild animals he likes elephant and lion, however he has not seen neither of them in the real life but he is dreaming of that of course.
The mother does not work but she is helping around in the house where they stay now. Juma also helps out. He sweeps the floor, do the dishes, and more.
Juma really likes football and his favourite team is Liverpool.
For now he really wishes a pair of black shoes with white socks for his school uniform. To that he would like to have can of Kiwi shoe polish so he can keep the shoes clean. Now he has a pair of green plastic sandals, he does not like to use them when he goes to school.