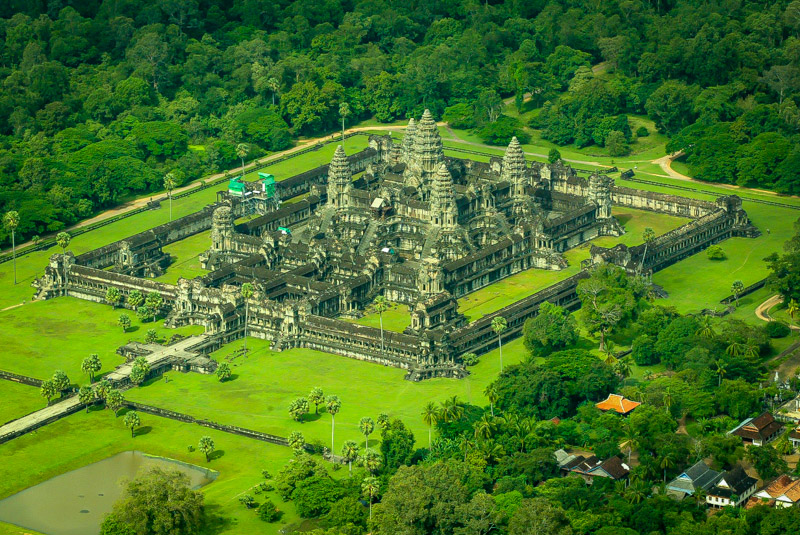 Maybe I have posted about Angkor Wat before, but I want to do it again:
Angkor is one of the most important archaeological sites in South-East Asia. Stretching over some 400 km2, including forested area, Angkor Archaeological Park contains the magnificent remains of the different capitals of the Khmer Empire, from the 9th to the 15th century. They include the famous Temple of Angkor Wat and, at Angkor Thom, the Bayon Temple with its countless sculptural decorations.
It consists of scores of temples, hydraulic structures (basins, dykes, reservoirs, canals) as well as communication routes. For several centuries Angkor, was the centre of the Khmer Kingdom. With impressive monuments, several different ancient urban plans and large water reservoirs, the site is a unique concentration of features testifying to an exceptional civilization.
The architecture and layout of the successive capitals bear witness to a high level of social order and ranking within the Khmer Empire. Angkor is therefore a major site exemplifying cultural, religious and symbolic values, as well as containing high architectural, archaeological and artistic significance.
The park is inhabited, and many villages, some of whom the ancestors are dating back to the Angkor period are scattered throughout the park. The population practices agriculture and more specifically rice cultivation.
Greater Angkor had its heights more than 750.000 inhabitants. Very impressive indeed.
This engineered landscape required constant maintenance. When the water system faltered, so did Angkor's power.
I haven't been to Angkor for a few years, but I will go to Cambodia soon for assignments and will also make it to Angkor for sure.