Friday night in Bangkok = Party time. Today it's time for the amazing monthly party Club Crawl again. Here is a video I did about Club crawl about three weeks ago together with journalist Jan Källman. I post it again. It's in Swedish but you get the idea. Show up at Bed Supperclub before 11 pm for the ultimate experience.
A couple of other events tonight:
Funky Friday @Leapfrog at Encore Ramada Hotel in Sukhumvit soi 10.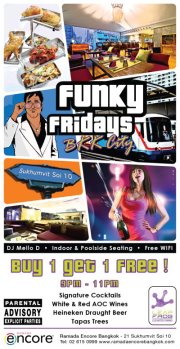 Latino night at Zaks Wine Pub in Sukhumvit soi 11.

Link of today: How the rich got rich.