Helmets
Two road safety groups have announced the result of an "extensive" nationwide survey aimed at determining how many Thais actually wear helmets when riding motorcycles. The (somewhat predictable) conclusion: not very many.
According to the study, only 43% of Thais regularly wear helmets, a figure far, far lower than the 100% helmet usage the government began pushing for in 2011.
The survey, conducted by the Thai Roads Foundation and the Road Safety Watch Group, found that helmet users tended to skew older, with 49% of adults, 28% of teenagers and only 7% of children wearing protection while on the road.
Some 100,000 people have died of automotive accidents in Thailand over the past 10 years. That's roughly 30 people per day. Enough said!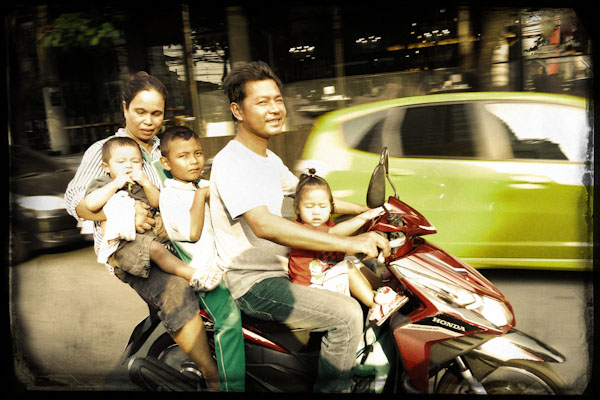 "100% no have helmet"
Mega-projects
The Thai Cabinet has voted to approve a THB2.2 trillion loan for the construction of several infrastructure "mega-projects" over the next seven years.
In announcing the decision, Prime Minister Yingluck Shinawatra said that her government planned to borrow from both domestic and foreign sources in order to provide for the projects' hefty price tag.
Football fans
This summer some big teams will arrive in Bangkok.  Manchester United, Liverpool and Chelsea from English Premier League and as well as Barcelona from the Spanish League will all include Bangkok in their plans.